Kitchen design, organization and ease of use are at the top of our minds. Your kitchen might even be the most used room in your house and a lot of activity happens there. It's not just about meals. It can be a gathering space or a place to work or study. Which of the following tips can make working in your kitchen even easier? Consider the following 7 kitchen hacks that you're bound to love.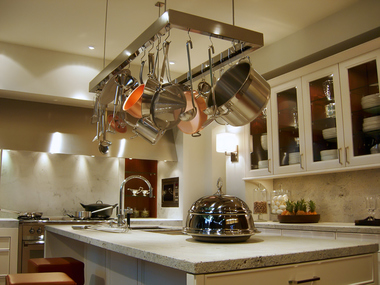 Otherwise Unusable Spaces
If you want to maximize your kitchen's storage potential, tap into your unused spaces. Is there a gap between the refrigerator and the wall? Put in a rolling storage cart for spices. Do you hate those false drawers under the sink? Create a pull-out for your sponge. Use toe-kick drawers near the floor for thin or flat items.
Helpful Magnets
Magnets can help in a lot of little ways. A magnetic spice rack can keep your spices organized and out of the way. A magnetic knife hanger is a great way to store your knives while still having them at your fingertips without taking up precious counter space.
Labels for Everything
Good storage is about organization and identification. Label things you use all the time. Do you have a container for tea and coffee? Create decorative labels or buy clear containers that can help you identify contents at a glance.
Over-the-Sink Cutting Board
Is your counter space at a minimum? Create or buy an over-the-sink cutting board. This surface not only will provide valuable space to work but also will make cleanup a breeze when you can just toss the food waste into the sink and garbage disposal.
Hanging Pots and Pans
Pots and pans often are large and in the way. Think about storing them vertically. Create a wall-hanging structure, if you have the wall space. If you have an island or other overhead area, you can install a hanging pot rack that is suspended from the ceiling.
Raised Storage
On your counters, consider raised storage to keep the space clear from clutter. For example, use a cake stand to store your salt, pepper and olive oil. This can provide a decorative solution and a useful way to access these items when you're cooking.
More Shelves in Cabinets
Has it ever frustrated you that there is a lot of unused space in your cabinets? You can store your dishes using half the space by installing a free-standing platform shelf over your existing shelf. This is something you can easily make or buy and will prevent you from having to stack different-size plates on top of each other.
If you are dreaming of a more organized kitchen, call The Harton Team today!