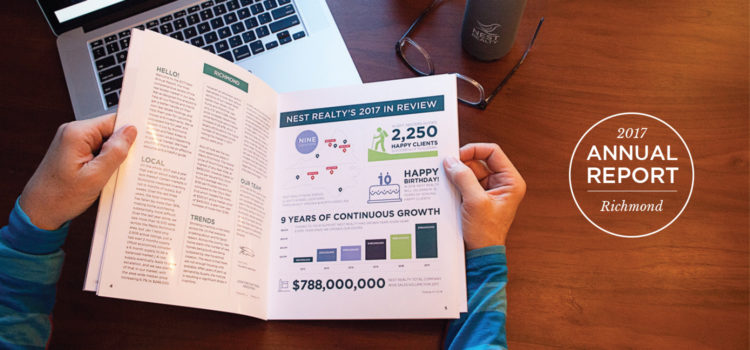 "HOW'S THE MARKET?"
2017 seems to have come and gone in a flash as we're nearly three months into 2018 already. The start of a new year means we're taking a look back at how our local real estate market performed last year. Clients often ask us, "How's the market?" Our annual report helps us answer this question and provide our clients with the insight to make confident, informed decisions.
We are excited to release our 2017 Richmond Annual Report. This report provides a comprehensive look at how our local market performed last year and the direction it is trending. We hope you find this report to be a valuable resource whether you're selling your current home, looking to purchase a new home, or just want to learn more about the Richmond real estate market.
The Richmond metro area is one of the hottest real estate markets in the state of Virginia right now. The sales growth we experienced across the region in 2017 is truly remarkable. On the whole, total sales rose 9% year-over-year with the City of Richmond, Henrico County, and Goochland Countyposting double-digit gains. Looking at the last five years, total sales have increased an astounding 46% from 2012.
Inventory, or lack thereof, is the biggest concern in our marketplace right now. At the end of 2017, there was approximately two months of inventory available. This lack of inventory is the primary reason for increasing sales prices, which rose more than 6.5% this past year in the Richmond metro area. The inventory environment has also caused multiple offer situations to be commonplace. On average, homes are selling in approximately five weeks, down from approximately six weeks in 2016. With fewer options available, sellers can command higher prices and buyers must be prepared to act swiftly.
Activity in the City of Richmond simply exploded in 2017. Central Richmond was the only area within the city to experience a decline in sales from 2016 to 2017. Church Hill, Northside, and Southside all saw double-digit increases in total sales. Average sales prices rose by at least 4% in all areas of the city with Northside seeing the largest increase at more than 13% year-over-year. Outside the city, market metrics were just as impressive. The Near West End and Far West End had the largest sales growth, which is a testament to the strong desire to be close to the city when living in the surrounding counties.
Be sure to read the full 2017 Richmond Annual Report below to learn more about how the Richmond area market performed in 2017. Over the next few weeks, we'll be breaking out our data and providing you with even more in-depth info. Keep an eye on our Facebook page for those updates. Have questions? Contact your Nest Broker today to find out what this report means for you and to discuss your real estate goals.
(We suggest viewing in fullscreen mode – click the icon at the bottom right.)